When:
March 1, 2016 – March 2, 2016
all-day
2016-03-01T06:00:00+00:00
2016-03-02T06:00:00+00:00
César Chávez Day is observed in the United States on March 31 each year. It celebrates the birthday of César Estrada Chávez and it serves as a tribute to his commitment to social justice and respect for human dignity.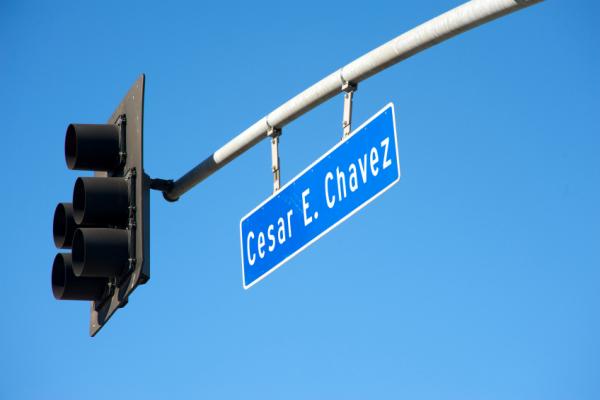 A street dedicated to civil rights activist César Chávez.
©iStockphoto.com/jcamilobernal
What do people do?
César Chávez Day celebrations are held in many parts of the United States. It is a state holiday in California and an optional holiday in states such as Colorado and Texas but its celebrations go beyond these three states. Other states where celebrations and various activities occur in honor of Dr Chávez include Arizona, Michigan, Nebraska and New Mexico.
Key community leaders use this event to speak to the public about values that Dr Chávez showed in his lifetime and how they made a positive impact on society. Discussions, debates and media attention may focus on issues that Dr Chávez was actively involved with. These issues are relevant to Americans today and center on worker's rights, fair wages, pension benefits, and medical coverage.
Many schools have classroom activities that focus on Dr Chávez's achievements, writings and speeches on or close to César Chávez Day. Community and business breakfasts or luncheons are also held to honor Dr Chávez's achievements and incite hope within American communities.
Public life
César Chávez Day is a state holiday in California so government offices, educational institutions and many businesses are closed. State government offices in Colorado may grant requests for César Chávez Day in lieu of another holiday in the same fiscal year. However, government offices must be open. César Chávez Day is an optional state holiday in Texas.
Background
César Chávez was born on March 31 in 1927. He was a migrant farm worker from the age of 10. He became active with the Community Service Organization, which helped fight racial and economic discrimination against Chicano residents.
Dr Chávez co-founded the National Farm Workers Association in the early 1960s. He focused attention on the plight of migrant farm workers and gained support to have his organization be the first successful farm workers' union in the United States. He used principles of non-violence, with strikes and boycotts. Dr Chávez remained president of United Farm Workers of America (AFL-CIO) until his death on April 23, 1993.
Funding for César Chávez Day was temporarily suspended in California around 2004 due to problems with the budget in the state. The courts were divided about the holiday in 2005, where some legal staff workers attended work but the doors to court rooms and filing offices were locked. Current efforts are made to push for César Chávez Day to become a national holiday in the United States.
Symbols
Many schools, community centers and parks are named after Dr Chávez in the United States. For example, there is the César Chávez Elementary School in San Francisco. There is also a portrait of Dr Chávez in the National Portrait Gallery in Washington DC, as well as a statue of him at the University of Texas in Austin. Dr Chávez is listed in the California Hall of Fame and references have been made about him in songs by well-known musicians. He was also honored with a commemorative postage stamp that the United States Postal Service issued in 2003.
Courtesy of DateandTime.com